"The Band" by Virgin Voyages
In partnership with Virgin Voyages, Fjord (now Accenture Song) was tasked with delivering an original wearable design for VV's brand new cruise ships. The quick program's scope included initial ideation, prototyping and user testing all the way to documentation and support for manufacturing.

We wanted to create a design that feels right at home with the rest of the Virgin Voyages brand and their "adults only" target demographic in the context of an all new cruise ship experience. With a strong focus in comfort and ease of use, it should feel familiar and non-obtrusive, it should feel equally appropriate for beach days in bikinis, exploring rocky ruins, sunset photo shoots on the top deck, and glamorous evenings in cocktail dresses. 
With Virgin Voyages having a strong focus on sustainability, both the bracelet and shell are made with recycled, ocean plastics. The bracelet is gifted as a souvenir for "Sailors" to keep after the ship reaches its final destination, adding meaning and a new life for the product. While the electronics housing stays behind and is designed to be reusable or recycle-able after the trip.

The Band was selected as the winner of the 2020 SF Design Week Award for the Travel and Hospitality category.
Lead Industrial Designer: 

Alejandra Castelao
Industrial Designer: 

Jay Murallon
Lead Mechanical Engineer: 

Andy Kriebel
Prototype Engineer: 

Dave Sharps
Leadership: 

Youenn Colin, Max Burton, Bryan Trautsch, Tom Hsiu
The Context, the Audience and the Brand were key pieces to consider when designing the object itself. The main components of the wearable are the electronics package, complete with the tech stack necessary for communicating with the rest of the system and the bracelet band, which should be universal and adapt to fit all different wrist sizes with a single SKU.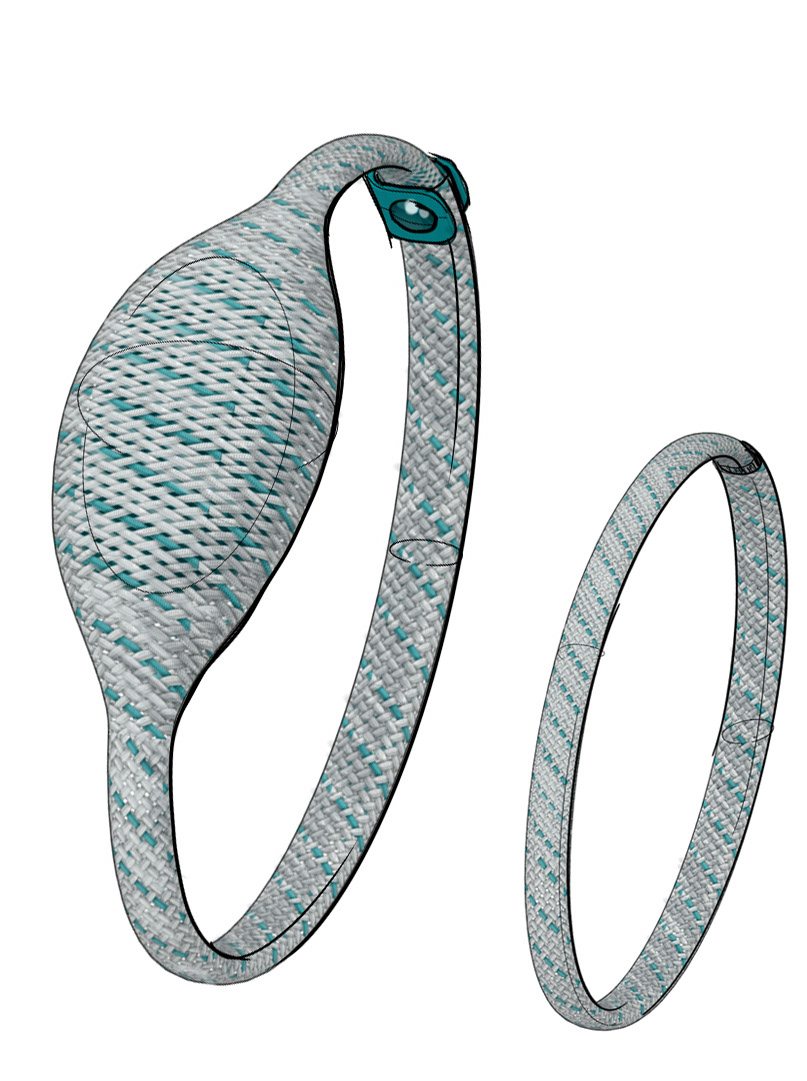 Ideation and initial concept development exploring the before and after transformation of the wearable, during and after the trip. The design of the bracelet had a strong focus on human factors and ease of use.
Prototypes to Final Output
Rapid prototyping and model making were key to produce assets for usability testing sessions and focus groups. The final Concept and CMF development and documentation for fabrication were part of the final output of the program as time was of the essence since we were only weeks away from the product to quite literally "ship".
Ultimately we strived to create a wearable that didn't feel "techie", that felt just right and at home in its context and left the user with a meaningful yet unexpected moment of delight. An easy and straightforward electronics module detachment method feels familiar and leaves behind a subtle but special souvenir from your trip. Once you remove the electronics module, these are sorted and recycled. 
The remaining bracelet is a keepsake made of ocean plastics. Final production units were ready to set sail with the first ship and are currently being produced for travelers across the entire fleet.