Immersive technologies will play a big part in the development of the next evolution of the internet and they represent a significant shift in the way we interact with others. Just like the early days of the internet, these powerful new mediums represent a new frontier for creativity and innovation. It's an incredibly exciting time and I believe designers can play a crucial role in shaping this new digital landscape. 
My interest in the field started back when I was working at frog design and had the chance to design the hardware for a couple of headsets for Oculus (pre- acquisition) and Meta AR. Since then I've been really curious about the space and I've been playing with different tools initially for 3D asset creation and quick grey boxing block-outs. Over the years, I've become a huge fan of Gravity sketch and Shapes XR and use them frequently in my own workflow. What began as a fun exploration became a favorite hobby of mine.
Fast forward a few years and now it's become a large part of my day-to-day work at Accenture. As most of my company client work is confidential, the following are my own personal experiments and projects.
Integrating immersive tools into my design workflow brings the magic of XR into my work. By using these tools early on in the process, I can transform abstract ideas into tangible solutions, making it easier for team members to understand and align on the design direction. This also helps in communicating the concept effectively to stakeholders, getting buy-in and feedback early in the design process. By identifying potential challenges early on, adjustments to the design can be made before too much time and resources have been invested. The output from these tools can also be used in non-immersive programs.
Overall, integrating immersive tools enhances my design workflow by providing an intuitive and effective means of communication with team members and stakeholders. 
World Building & Training
I've played around with a few different platforms like AltSpace (RIP) and Spatial.io, they all have their capabilities and limitations but I really enjoy world building experiences in Meta Horizon Worlds. The "cartoony" aesthetic may be polirizing for some but you cannot beat the easy of use, quick learning curve and fast programing capabilities. Especially for someone who is definitely not a developer, like myself.
The power of going from bits to atoms in a fast and straightforward way is undeniable. For this particular project I wanted to surprise my wife with a custom-made Christmas present. The subject matter was our beloved old Dachshund, Inna. I modeled the ring directly in VR using Gravity Sketch and then 3D printed the ring in silver via Shapeways. The process felt incredibly manual and "hand-made" despite the use of cutting-edge tech. This is just an example to illustrate the potential of fast VR to physical prototyping. I've now incorporated this skillset to my own workflow with really positive results.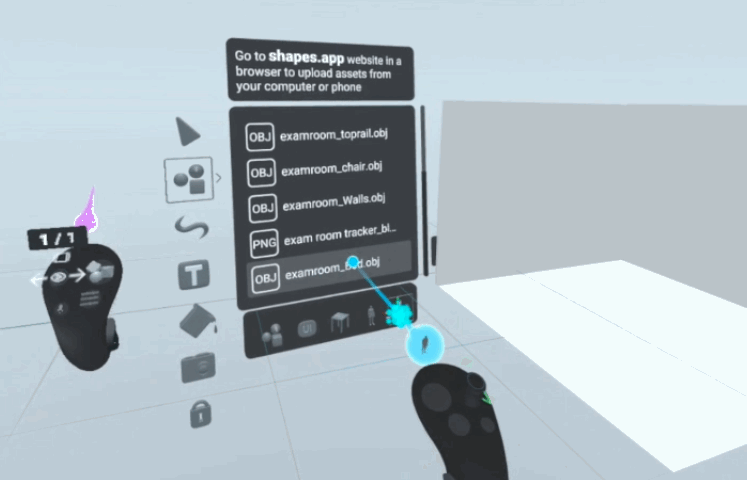 I've found combining tools like Shapes XR and Gravity Sketch to be incredibly useful when creating interactive storyboard vignettes in a matter of minutes. The immediacy of seeing high-level ideas take shape inside a shared space before adding a layer of detail is really powerful. It used to take days to go from sketches to real-scale physical mockups only to realize proportions or scale were off. You ended up making a ton of assumptions. These quick simulations allow me to reduce the amount of guessing and get a real three-dimensional feel for a space and/or product.
As a hybrid designer I've had to sketch tons of storyboards and quick visuals throughout my career. Up until recently these were all 2D visuals, maybe an animated gif here and there. Virtual Reality tools like Quill have opened a door full of potential for me. I can now draw immersive scenes and compositions and animate them directly in VR. The 3D output that can be achieved allows you not only to immerse yourself in a story but also  import those same assets into other software to create different 2D or 3D content, opening up a world of possibilities.
The output that can be achieved with XR as a tool can vary greatly, depending on the goals of each project and the stage of development. Over the past couple of years, I've experimented with various immersive technologies, platforms, and tools. I've found that structured exploration and practice is the best teacher. I've been challenging myself by working on mini project assignments to learn a different tool each time by keeping a simple goal in mind. This approach has helped me get enough structure to explore freely while staying motivated to learn and grow as a designer in this exciting new field of immersive experiences.